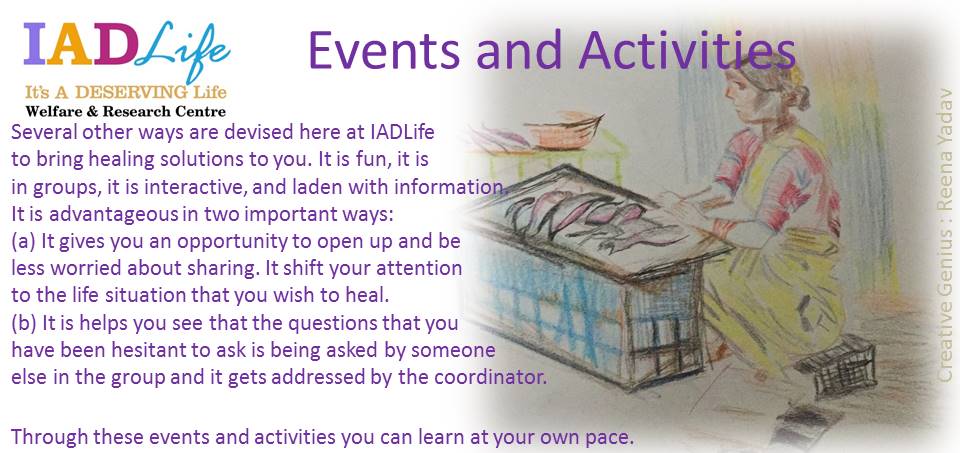 IADLife Events and Activities: We create new means to bring you different ways to get acquainted and get comfortable with the healing solutions.
Rules are simple. Applying them is easy. Read at your time and space. Apply and learn at your speed.
Results are astounding. If you are willing to go through these activities they will make you think and you can do it many times for different life situations.
These are not charged. For guidance or counselling you will need to book a session or join a Great Minds Group activity in groups.
I encourage you to visit this link or write to us to be part of the IADLife whatsapp group, to stay abreast with different activities that are posted here. https://iadlife-com.dxpsites.net/events-and-activities/
Great Minds Group Activities: These are groups formed online from teams from corporates or individuals coming together for activities that have common instructions. These activities come with guidance and counselling. These have a costing. https://iadlife-com.dxpsites.net/iadlife-great-minds-group-activities/
T@ T6 Topics: One new topic each week. We have been having it onsite. But now we wish to start an online group internet video chat. The whole idea is to increase and expand the demographic for larger reach. We are convinced that these topics are useful to many more all over the planet. https://iadlife-com.dxpsites.net/tt6-previous/
Find Us
Bansankari IInd Stage
Bangalore – 560061
Call Us
(080) – 42188074
+91 – 9886077034