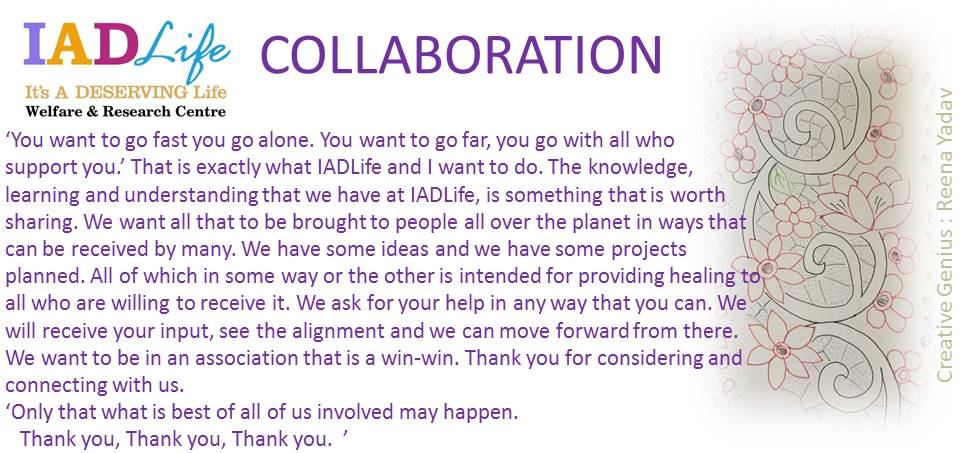 There is so much that we want to do. We are asking for help in various capacities. We have listed some of the ideas and projects for which we want support immediately.
We will keep listing these ideas and anyone who has the resources and is willing to share with us please contact us soon. Thank you Thank you Thank you. https://iadlife-com.dxpsites.net/collaboration/ 
IADLife seeks collaboration in following:
The collaboration that we are requesting is in networking, sponsorship, contacts. Please CONTACT US.
(1) Book Publishing. Data on the same subject is ready to be published in the form of books for the reach and availability of people from all over the planet. IADLife requests the publishing firm to please contact us.
(2) Prints of IADLife sayings, sketches or personalised messages for each by Reena Yadav on the Mugs, T-shirts, jute wall hangings and scarfs.
(3) Diaries with IADLife sayings by Reena Yadav. Please visit the IADLife blog for these sayings.
(4) Calendars, daily reminders, Apps with everyday sayings from Reena Yadav.
(5) Networking and advertisement for workshops and life coaching.
(6) We are looking for sponsorship for advertisements – online and newspapers and for other creative idea fruition.
Find Us
Bansankari IInd Stage
Bangalore – 560061
Call Us
(080) – 42188074
+91 – 9886077034